Associate degrees carry more weight than you may think.
Earning an associate degree can advance your career and boost your salary.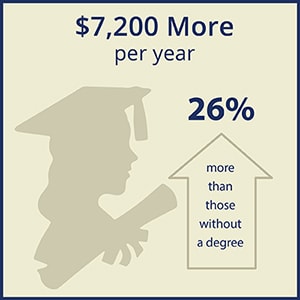 Workers who completed an associate degree received a wage increase of about $1,160 (for men) and $1,790 (for women) each quarter after completing college, according to a 2017 study published by the Center for Analysis of Postsecondary Education and Employment.
Annually, that's an extra $7,200 for women and $4,600 for men, as compared to workers with a high school diploma or less.
In addition to earning more than high school graduates, associate degree holders are filling new jobs at a higher rate.
Of the jobs created after the recession (December 2007 to June 2009), 25% were filled by workers with an associate degree or some college education, according to a newly-published study by Georgetown University's Center on Education and the Workforce. It's a vast difference from high school graduates and dropouts, who filled 80,000 jobs during the same time.
Overall, more than 95% of jobs created during the recovery were filled by college-educated workers, according to the report.
Potential salary ranges and employment opportunities vary based on several factors, including an individual's educational qualifications and work experience, as well as regional market conditions.
According to the American Institute for Research, in 2013 associate degree graduates earned higher per-capita median incomes in Colorado and Texas. In Colorado, workers with an associate degree earned $42,000 annually; in Texas, they earned $56,000.
Career options within the healthcare, psychology and criminal justice fields are available for associate degree holders.
A person with an associate degree in healthcare administration may find work as an occupational therapy assistant; those positions earned an average annual salary of $59,470 in 2017, according to the U.S. Bureau of Labor Statistics (BLS). Other positions associate degree graduates may qualify for include health information technicians, and occupational health and safety technicians.
An associate degree in psychology may lead to a career as a substance abuse and behavioral disorder counselor had an average annual salary of $45,560 in 2017, according to the BLS. Some graduates worked as social and human services assistants.
An associate degree in criminal justice could lead to a career as a police officer, private detective or paralegal. Police officers earned an average salary of $64,490 in 2017, according to BLS, while private investigators earned $55,080 on average, and paralegals earned $53,910 in 2017.
An associate degree offers more than just greater earning potential. A two-year college degree places graduates halfway to a bachelor's degree, and allows them to enter the workforce and gain experience while pursuing a bachelor's degree online.