Get program guide
YES! Please send me a FREE brochure with course info, pricing and more!
The Bachelor of Arts in Psychology degree program allows you the opportunity to explore the connection between psychological concepts and the criminal justice system if you choose to pursue an optional concentration in Criminal Justice. With this option, you will explore how psychological principles influence areas such as crime prevention, rehabilitation and policing tactics, as well as the characteristics and motivations of perpetrators and victims.
What You'll Learn
This Psychology concentration offers elective courses specializing in law and psychology, and can help position you for career opportunities in a variety of fields, including family, criminal and civil court systems. You will learn how to apply psychological principles to legal issues such as child custody, courtroom dynamics and public safety. You will also examine the spectrum of policing theories, concepts and practices as they apply to modern society.

Featured Courses:
Juvenile Delinquency
Abnormal Psychology
Deviance
See sample curriculum here. Find textbooks and materials required for each specific term.
Accreditation
New England College is accredited by the New England Association of Schools and Colleges, Inc. (NEASC), the nation's oldest accrediting association, through its Commission on Institutions of Higher Education.
Careers
The BA in Psychology/Criminal Justice program prepares you to pursue employment opportunities in a wide array of fields, including law enforcement, social work, criminal justice and forensic psychology. Possible career paths include:
Learn More
Discover what makes New England College different from any other school, and learn more about our program offerings, tuition and the advantages of online learning.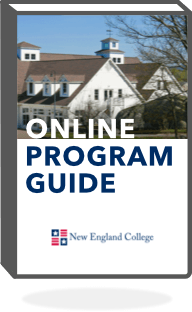 Thank You!
An enrollment services representative will contact you shortly.