Get program guide
YES! Please send me a FREE brochure with course info, pricing and more!
The Bachelor of Arts in Psychology degree program allows you the opportunity to specialize in assessing and treating mental illnesses and other disorders if you chose to pursue an optional concentration in Clinical Psychology. With this option, you will explore the application of psychological theories and diagnoses, including the benefits of therapy and counseling for specific populations.
What You'll Learn
This Psychology concentration offers elective courses that discuss applying psychological concepts to real-world situations and examine major theories using the appropriate terminology for psychological disorders. You will gain an understanding of the process of diagnosis and treatment by exploring the cognitive and biological factors associated with psychological disorders.

Featured Courses:
Counseling and Therapy
Abnormal Psychology
Substance Abuse
Human Development I: Childhood and Adolescence
See sample curriculum here. Find textbooks and materials required for each specific term.
Accreditation
New England College is accredited by the New England Association of Schools and Colleges, Inc. (NEASC), the nation's oldest accrediting association, through its Commission on Institutions of Higher Education.
Careers
Employment growth in the fields of psychology and mental health counseling is projected to outpace the national average for all occupations in the coming years, according to federal statistics. The BA in Psychology/Clinical Psychology program provides you with an understanding of psychological disorders and treatment methods, preparing you to pursue graduate studies or a variety of career paths such as:
Psychiatric Technician
Substance Abuse Counselor
School and Career Counselor
Sports Psychologist
Learn More
Discover what makes New England College different from any other school, and learn more about our program offerings, tuition and the advantages of online learning.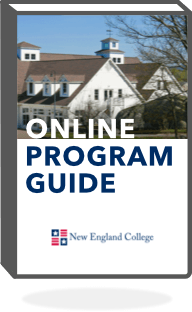 Thank You!
An enrollment services representative will contact you shortly.