Get program guide
YES! Please send me a FREE brochure with course info, pricing and more!
The Bachelor of Arts in Psychology degree program allows you the opportunity to gain in-depth knowledge of the tools and methods used to help individuals modify problematic behaviors if you choose to pursue an optional concentration in Applied Behavioral Analysis. With this option, you will explore contemporary theories in the field of psychology, including the use of tests and other assessment instruments.
What You'll Learn
This Psychology concentration offers elective courses that focus on the diagnosis and treatment of behavioral conditions in a variety of settings, including schools, private clinics and rehabilitation centers. You'll also learn about methods of reporting, interpretation and administration, as well as research-based intervention.

Featured Courses:
Educational Psychology
Applied Behavioral Analysis
Psychological Assessment
Applied Behavioral Analysis with Development, Disabilities, and Psychopathology
See sample curriculum here. Find textbooks and materials required for each specific term.
Accreditation
New England College is accredited by the New England Association of Schools and Colleges, Inc. (NEASC), the nation's oldest accrediting association, through its Commission on Institutions of Higher Education.
Careers
The BA in Psychology/Applied Behavioral Analysis program provides you with a solid foundation for advancement in this diverse and rewarding profession, whether you want to pursue graduate-level qualifications or career opportunities such as:​
Learn More
Discover what makes New England College different from any other school, and learn more about our program offerings, tuition and the advantages of online learning.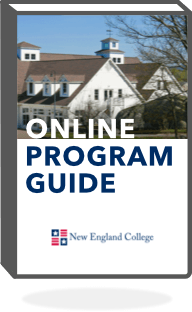 Thank You!
An enrollment services representative will contact you shortly.