Get program guide
YES! Please send me a FREE brochure with course info, pricing and more!
From languages and literature to art and music, philosophy and religion, there are many facets of the human experience to explore. The Bachelor of Arts in Humanities cultivates your critical-thinking and problem-solving skills across a broad spectrum of subject areas. By examining multiple aspects of the human condition, including how we interact as a society, our bachelor's degree in Humanities builds on a liberal arts foundation of knowledge and enhances your communication, research and analytical skills.
What You'll Learn
In our BA in Humanities program, offered 100% online, you'll develop your research and communication skills to better interact with individuals from all walks of life. Topics like religion, race, gender, ethnicity and human rights are examined in relation to the human experience. You'll also study literature, art and architecture in this liberal arts-based curriculum.

Featured Courses:
Introduction to Art and History
Making Sense of the World: Philosophy, Literature & Democracy
Religion and Philosophy
See sample curriculum here. Find textbooks and materials required for each specific term.
Accreditation
New England College is accredited by the New England Association of Schools and Colleges, Inc. (NEASC), the nation's oldest accrediting association, through its Commission on Institutions of Higher Education.
Careers
The study of humanities builds a solid foundation for professional opportunities in diverse disciplines. Many jobs in policy, research or marketing are good choices for a well-rounded humanities graduate. The foundation of liberal arts knowledge developed in the BA in Humanities program can be applied in an array of career paths including:
Learn More
Discover what makes New England College different from any other school, and learn more about our program offerings, tuition and the advantages of online learning.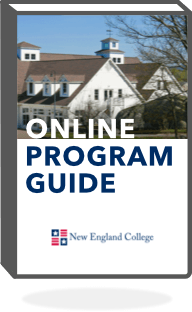 Thank You!
An enrollment services representative will contact you shortly.