Get program guide
YES! Please send me a FREE brochure with course info, pricing and more!
The Bachelor of Arts in Criminal Justice with a Concentration in Institutional and Community-Based Corrections explores the techniques and methodologies used to support individuals transitioning back into society following a period of incarceration. You'll also understand the human and constitutional rights of offenders, as well as the implications of community supervision, treatment and other areas of the criminal justice system.
What You'll Learn
The role of corrections professionals is to rehabilitate offenders using accepted methods that respect their human and constitutional rights, while also serving as intermediaries between society and individuals who are incarcerated or under community supervision. In our BA in Criminal Justice/Institutional and Community-Based Corrections program, available 100% online, attention is focused on the legal and policy-driven programs established for offenders reentering society. You'll also gain a foundational understanding of probation and parole systems, and examine the various responsibilities of corrections professionals.

Featured Courses:
Legal and Policy Issues in Corrections Administration
Law Enforcement Supervision, Management, and Leadership
Community-Based Corrections
Restorative Justice
See sample curriculum here. Find textbooks and materials required for each specific term.
Accreditation
New England College is accredited by the New England Association of Schools and Colleges, Inc. (NEASC), the nation's oldest accrediting association, through its Commission on Institutions of Higher Education.
Careers
According to the U.S. Bureau of Labor Statistics, continued employment growth in the corrections field will be fueled, in part, by government initiatives to ensure compliance with offender management and rehabilitation mandates. By exploring areas such as restorative justice, law enforcement leadership and corrections administration, the BA in Criminal Justice/Institutional and Community-Based Corrections program can prepare you for a variety of roles including:
Community Corrections Case Manager
Learn More
Discover what makes New England College different from any other school, and learn more about our program offerings, tuition and the advantages of online learning.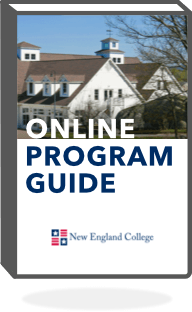 Thank You!
An enrollment services representative will contact you shortly.