Get program guide
YES! Please send me a FREE brochure with course info, pricing and more!
Technology has fueled growth and innovation, but it has also given rise to the era of digital crime. News reports are filled with stories of hackers ruining personal and professional reputations, exposing trade secrets and leaking classified information from government agencies. The Bachelor of Arts in Criminal Justice with a Concentration in Cybersecurity and Information Assurance examines issues such as the prevention of cybercrime, digital forensics, and legal requirements for investigations and prosecutions.
What You'll Learn
The role of the cybersecurity and information assurance professional is vital to the security of individuals and institutions. In our BA in Criminal Justice/Cybersecurity and Information Assurance program, offered 100% online, you'll explore the evolving nature of cybercrime, and learn how to create, implement and enforce policies and procedures designed to mitigate hacking and other cyber attacks.

Featured Courses:
Introduction to Cybersecurity and Information Assurance
Legal Issues in Cybercrime Investigations
Information System Digital Forensics Investigations
Information System Security Policies and Procedures
See sample curriculum here. Find textbooks and materials required for each specific term.
Accreditation
New England College is accredited by the New England Commission of Higher Education (formerly the Commission on Institutions of Higher Education of the New England Association of Schools and Colleges, Inc.).
Careers
Job growth in the cybersecurity field is expected to grow by 18% by 2024, as positions open up at the local, state and federal level as well as in nonprofit and private, for-profit institutions. Here are some careers to consider with a concentration in Cybersecurity and Information Assurance:
Computer Security Incident Responder
Source Code Auditor
Ethical Hacker (Tester)
Learn More
Discover what makes New England College different from any other school, and learn more about our program offerings, tuition and the advantages of online learning.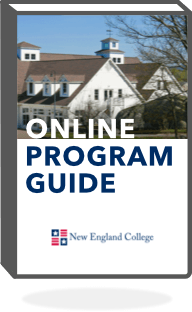 Thank You!
An enrollment services representative will contact you shortly.
Ready to Apply?
If you're ready to start your journey at New England College, click below to begin the application process.
There is no application fee.