Get program guide
YES! Please send me a FREE brochure with course info, pricing and more!
Due to technological advances, the world is now more interconnected than ever before. As a result, the way business is conducted is changing, with more companies entering the international marketplace every day. In order to be successful on the global stage, companies need well-rounded managers who understand trade regulations and cultural differences, and possess a multicultural business etiquette.
What You'll Learn
In our BA in Business Administration with a Concentration in International Business program, offered 100% online, you will explore culture-specific business issues that will help you develop a broad understanding of international economics, trade, governments, contracts, markets and finance.

Featured Courses:
International Business
Intercultural Communication
International Trade
Geopolitics of World Business
See sample curriculum here. Find textbooks and materials required for each specific term.
Accreditation
New England College is accredited by the New England Association of Schools and Colleges, Inc. (NEASC), the nation's oldest accrediting association, through its Commission on Institutions of Higher Education.
Careers
Leadership skills, strong ethics and adaptability to evolving technologies are cornerstone components of a career in international business. Potential employers include banks, import/export corporations, multinational manufacturers, consulting firms, international nongovernmental organizations (NGOs), electronics and technology companies, and transportation industries like shipping or airlines. Here are some careers to consider with a Bachelor of Arts in Business Administration with a Concentration in International Business:
Translator/Interpreter
Foreign Currency Investment Advisor
International Marketing Director
Trade and Customs Manager
Learn More
Discover what makes New England College different from any other school, and learn more about our program offerings, tuition and the advantages of online learning.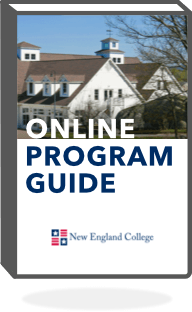 Thank You!
An enrollment services representative will contact you shortly.